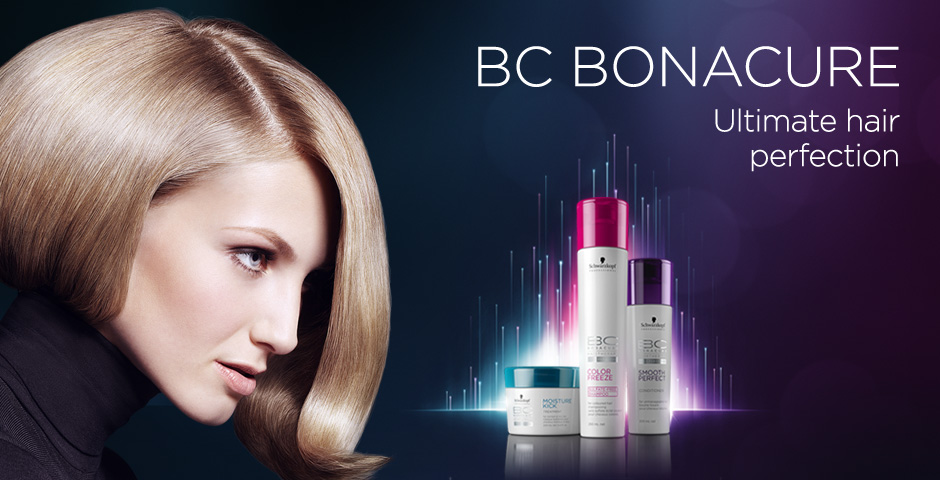 Schwarzkopf BC BONACURE Range
Brings hair closer than ever to natural perfection..
BC FIBRE FORCE
Over-processed hair can be badly damaged in its inner and outer structure, leaving it rough, dull, lacking in elasticity, unmanageable and weak. BC Fibre Force treats badly damaged hair to renewed life.
Starting from the inside out, reconstructing the inner architecture of the hair at a cellular level, restoring the fibres and refilling the cement between fibres, as well as reconstructing the outer layer for lasting strength, resilience and a healthy looking shine.
BC OIL MIRACLE
When we were looking for extraordinary shine and manageability in a formula that delivered flawless nourishment and indulgent softness without weighing down hair, we turned to oil blends. And in precious Argan and Marula oils, we found a vital part of our answer. BC Oil Miracle infuses every hair type with a richly healthy-looking, mirrorlike shine, all in a feather-light formula. One of the biggest hair care stories of the 21st century, oil formulas have redefined the way we care for hair.
BC SCALP THERAPY
A healthy scalp is the vital basis for beautiful hair so, if your client's
scalp is dry, flaky and itchy, they'll never feel happy. Now you can help your client out, with the expertise for scalp as you can offer for hair. BC Scalp Therapy, with our specialist Nutritive-Balance Complex to deeply nourish every hair follicle, significantly strengthening and balancing the scalp's protective barrier.


BC SUN THERAPY
Sun is as harsh on the hair as the skin and can lead to dull hair, faded colour and split ends. Some of this damage is probably down to the effects of exposure to sun, sand and sea, and it needs treating.
With BC Sun Protect, hair is detangled, rehydrated and made more manageable in no time. UVA/UVB filters filter out those harmful rays, while deeply indulgent oil replenishes sun-damaged hair, to get it back into beautiful, sleek condition.
BC HAIR ACTIVATOR
Average hair loss from 16 - 20 years is between 60-200 strands per day. Hair loss tends to even up over time but the bottom line is if you're losing more than 100 strands per day, every day, loss will exceed new growth – leading to thinning hair. BC Hair Activator, an innovative range, scientifically formulated to start acting the moment hair thins, densifying existing hair while delivering the essential nutrients needed to activate root energy to diminish premature hair loss*.
*non pathological hair loss
BC SMOOTH PERFRECT
Almost 90% of women dream of more manageable, smoother hair with long lasting frizz control. BC Smooth Perfect is formulated to take control of thick, frizzy, coarse or curly hair, it is an ultimate frizz-control formula.
This smart formula controls frizz from wash to wash, minimising styling time, and offering 70% quicker detangling. For hair that's smoother, shinier, hydrated and always easy to handle.
BC VOLUME BOOST
Volume and body are among the highest priorities for the vast majority of clients. Fantastically effective on even the finest, weakest hair, BC Volume Boost comes in a weightless formulation that cares and boosts with fantastic root-lift. Hair feels fuller for up to 3 days with up to 100% improvement in volume, giving even fine hair lasting body and a natural shine.



BC TIME RESTORE
Every hair is 95% keratin and every year our production of keratins diminishes. As we age, hair can become weak, limp, brittle or dry. And it's why mature hair needs specialist care. Add white hair, which needs even more moisture, into the equation and you need something special. BC Time Restore provides 100% resistance and elasticity - strengthening, hydrating and protecting against thinning. It reactivates keratin production plus replenishing Nutrifiller, the result is hair that looks and feels rejuvenated, fuller, softer and shinier. Every day.
BC MOISTURE KICK
When hair lacks moisture, it lacks shine, elasticity and bounce, it's harder to manage and can become brittle. Thirsty hair needs treatment fast, feeding it with essential moisture to give elasticity and a longer lasting healthylooking shine. BC Moisture Kick – rebalances and delivers optimum levels to even the driest hair to improve resilience, increase shine and eliminate static. For perfectly supple, shiny, moisturised hair full of elasticity and bounce.


BC COLOUR FREEZE
Vibrant true colour, quite simply, makes any look. it's a skilled science getting the perfect hue, so everyone wants their colour to remain true for as long as it can. Formulated to combat colourfade and lock-in shine, with unparalleled vibrancy, BC Color Freeze promises 100% more sealed-in shine and up to 90% lasting colour retention. Recently reformulated, we've now achieved a fabulous 15% impr ovement on shine compared to our original BC Color Freeze collection.
BC REPAIR RESCUE
When hair is damaged, it shows it by losing its bounce, its health and its shine. Which is why we created BC Repair Rescue. With BC Repair Rescue the recovery starts at cellular level, with a formula that nourishes, restructures and repairs hair from the inside out. The in-depth restoration gives an incredible 100% replenishment and resilience, with up to 95% less breakage. The result? Hair that feels like reborn, with a super soft feel, renewed elasticity and a healthylooking, long-lasting shine.
To book an appointment call
01482 352059

or send us an Email – sjd74@live.co.uk